The 'most charming love letter in literature'
by Dr Jenny Gilbert, BCLM Researcher
Wednesbury, Woolf and the 'most charming love letter in literature'
Do not start. Do not blush. Let us admit in the privacy of our own society that these things sometimes happen. Sometimes women do like women.
– Virginia Woolf, A Room of One's Own (1929)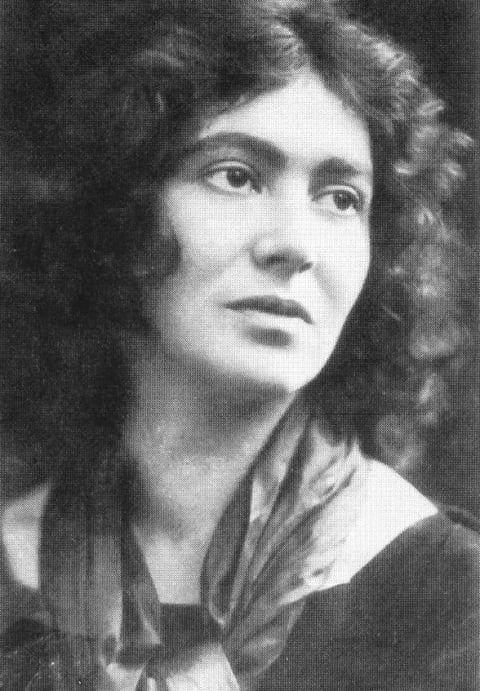 Virginia Woolf's words reveal a lot about attitudes towards female sexuality in 1920s and 1930s Britain. The quote is at once unapologetic and matter-of-fact yet ambiguous and even euphemistic: the word 'like' concealing as much as it reveals. Lesbianism and bisexuality remained very much taboo subjects though, of course, female same-sex relationships were happening, albeit often concealed behind 'respectable' heterosexual marriage.
You may be surprised to hear that Woolf's own path would cross with that of a woman from Wednesbury, contributing to the creation of what is, today, considered a landmark and trailblazer of Queer literature: Orlando: A Biography.
Mary Garman was born in Wednesbury in 1898. She was the oldest of the nine Garman children, born to Walter Garman, Medical Officer for Wednesbury and his wife, Margaret. The family were well off and lived in Oakeswell Hall, a 15th century manor house that was demolished in 1962. Whilst the Garmans were respectable and devout Anglicans, Mary was beautiful, free spirited, clever and headstrong. Biographer Cressida Connolly describes how Mary and her younger sister Kathleen caused 'something of a local scandal' when they paid a sneaky visit to the local miners' pub. Connolly also notes how, when at boarding school in Abbotts Bromley, Mary fell in love with her female art teacher.
In 1919, 20 year-old Mary and 18 year-old Kathleen left the Black Country behind and ran away to London. They had no money and their father refused to give them an allowance. This meant that the sisters had to take on work. Mary drove a delivery van for Lyon's Corner Houses whilst Kathleen cared for Harrods' carriage horses and worked as an artists' model. Their father eventually backed down and provided the sisters with an allowance. This enabled them to enjoy the high-life of London and they soon began mixing with a bohemian set of artists and writers at the Café Royal.
Whilst moving in this milieu, Mary met the South African poet Roy Campbell. Campbell was a complex and controversial figure. The couple married in Wednesbury 1922. In a typically dramatic fashion, Mary chose to marry in a long black dress and gold veil. Their marriage was a tumultuous and tempestuous one.
In May 1927, the Campbells were living in Kent. According to Connolly, it was during a trip to the Post Office in the village of Sevenoaks that Mary met the androgynous and aristocratic writer, Vita Sackville-West. Vita lived in an open marriage with her husband Harold Nicolson at Long Barn, near Sevenoaks. Vita was also involved in a long term and loving extramarital relationship with the writer Virginia Woolf – a relationship that would last over ten years. Following their initial meeting, Vita and Mary embarked on a passionate love affair and by September 1927, Mary and her husband had moved into a cottage on Vita and Harold's estate.
Woolf was, at the time, in search of the inspiration for her next novel and Vita was to be her muse. Connolly believes that Woolf's jealousy upon discovering Mary and Vita's affair may have spurred the author to create what Vita's son Nigel Nicolson described as 'the longest and most charming love letter in literature.'
Woolf was aware of Garman and made no secret that she objected to the time Vita was spending with her, writing: 'I rang you up just now to find you were gone nutting in the woods with Mary Campbell…but not me – damn you.'
The resulting novel, Orlando was published in October 1928. It is a biography of its namesake, Orlando, who lives for over 400 years and frequently switches from male to female without noticeably ageing. The novel is both a work of satirical history and loosely veiled romantic tribute from Woolf to Sackville-West. Vita was androgynous – she would cross dress in male clothing and refer to herself as 'Julian' – and defied many of the norms expected of aristocratic women. She was deeply hurt and angered when she lost her sprawling family home of Knole, which she would have inherited had she be born male. She provided the inspiration for the protagonist, as Woolf stated whilst rebuking Vita for her behaviour with Mary:
Suppose Orlando turns out to be about Vita; and it's all about you and the lusts of your flesh and the lure of your mind (heart you have non, who go gallivanting down the lanes with Campbell) – suppose there's the kind of shimmer of reality which sometimes attaches to my people…shall you mind?
The influences and inspirations for this classic work of modernist and, to apply 21st century terminology, gender fluid literature are diverse and many. However, it is likely that the romantically entangled lives of Mary, Vita and Virginia at the time of its creation fuelled Woolf to eloquently and entertainingly express her deep desires, passions, frustrations and longings.
Mary and Vita's affair had fizzled out by November 1928. Mary and Roy Campbell moved to the South of France. Vita and Virginia continued their romance – a picture of Virginia can be seen today on Vita's desk, lovingly preserved at Sissinghurst Castle. Orlando has since been adapted for stage and screen, most notably Sally Potter's critically acclaimed 1992 film starring Tilda Swinton.
And the simple fact remains: sometimes women like women. And sometimes that woman happens to be from Wednesbury.